Centro y Mini Oratorio
Los Hijos de Don Bosco
Barrio Obrero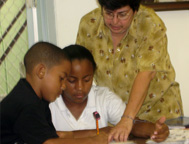 In Barrio Obrero, Santurce, the Salesian Ladies carry out their work in the social work center "Mini Oratorio Los Hijos de Don Bosco" located at Bartolomé Street in Las Casas de Canteras. The center was completed in 2007 and primarily provides a program of guided studies, tutoring and catechesis for children and young people at high risk and vulnerability at the local area after school and on Saturdays. At present there is a group of about 20 children between the ages of 7 and 11 years. The center has a library, a computer room, kitchen, games room, a stage for theater lessons, basketball court and a playground.
Impact of America Developing Smiles of Puerto Rico
Impacts about 20 children per year helping the operation of the center.